Pony Rainbow Dash game
Follow us on Facebook and Youtube: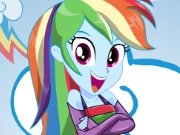 Description: Pony Rainbow Dash
Rainbow Dash is a very active girl and it's hard to hold her in one place. She does sports and wants to become a superstar. At the moment she is the captain of a sports team at her school. Last season, her team lost to another team from a neighboring school. So Rainbow Dash is trying very hard and prepares her team for revenge. Help her and choose a great outfit for her. It should be bright and comfortable clothing for the sports team captain, who will definitely be the winner!