Starlight Glimmer Dress Up Game game
Follow us on Facebook and Youtube: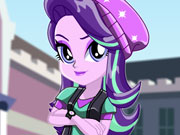 Description: Starlight Glimmer Dress Up Game
Do you know what this pony's name is Starlight Glimmer? For many years she engaged in magic and can perform the most complex types of magic. For example, she can use telekinesis at long distances, and she can create large explosions and creates magical barriers. The latter is very useful if you want to stop some wizard or an enemy who wants to hurt anyone. Also, she is able to create beautiful magic lights. Them it may distract the villains from anything. But back to this beauty along. There are a lot of beautiful dresses, hair, and jewelry in this Starlight Glimmer MLP dress up game. Of course, there are shoes and suits. So the game promises to be very interesting. Let's start to play and share comments about this game. Well, if you've already played this game, try the excellent
fashion show battle games
on our website. I think you'll be back to play again!