Chloe Bourgeois from Ladybug game
Follow us on Facebook and Youtube: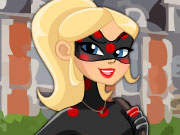 Description: Chloe Bourgeois from Ladybug
Play dress up game with beautiful music about Chloe from LadyBag, which looks very impressive and cool. This girl quarreled with LadyBag, it became AntiBag. Now she wears a ladybird attire but with flowers on the contrary and possesses a number of super abilities. She even has her yo-yo, but she does not like to use it.
Let's help the girl conquer evil. To do this, she needs our support and a spectacular suit that will delight and at the same time frighten everyone who wants to defeat Chloe. Use the mouse and buttons in the game to select sections with outfits. Create a new strong Chloe, which is subject to everything!
Played: 30510. Added: 11-09-2018, 08:05.
Play other games from this developer:
StarSue.net
. Categories:
Dress Up