Cruise Vacation game
Follow us on Facebook and Youtube: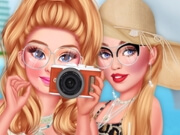 Description: Cruise Vacation
Vacation on a cruise ship is so great! Just imagine that there are no big noisy cities around, but only the ocean and dolphins! In this game, you are waiting for the already familiar girls who have long wanted to relax together and away from civilization. As usual, they cannot do without your help. After all, you need to choose hairstyles, makeup, dresses, hats, and jewelry. Girls already have a headache from a wide variety of options, and only your decision will help them decide on the best choice. So don't wait a minute and help each of the girls create the best outfit for a cruise ship vacation. At the end of the game, you can save a photo from the vacation spot with all the girls at once. I think this is a great reward for your work!