Magazine cover girl dress up game
Follow us on Facebook and Youtube: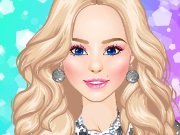 Description: Magazine cover girl dress up
What a girl have never read a fashion magazines? Probably everyone has done it. I think that many of the girl would become the face of such magazines. Well, at least one! This young model is already known by many and her dream finally comes true! She was invited to a photo shoot for the magazine. She can appear on the cover of the magazine. To do this, the photographer has to try to make a good photos, makeup artist has to try to do cool makeup, hairdresser to make a cool hairstyle and fashion designer to choose the fashionable dress. There is a lot of work. Try to do all the work in this game by yourself!
You already have mouse and ready dresses, jewelry, hair and shoes. Drag all this with the mouse to the girl and look what a magazine cover you get. Surely it would be gorgeous picture!