Matching School Bags game
Follow us on Facebook and Youtube: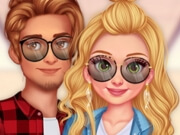 Description: Matching School Bags
The start of the school year is so cool! All the students have already had a good rest over the summer and I want to see my study friends again, tell them how they spent the summer. And I also want to surprise them with something. Meet a wonderful group of friends who spend a lot of time together! They are also looking forward to the start of the new year and have a cool idea to come up with a new design of school backpacks for the beginning of the school year. Since they need four backpacks to come up with, they need your help. In this game, you will be able to choose each of your friends to start creating a unique and suitable school backpack design for them. But that's not all. After the design of the backpack is invented, you can start choosing clothes for each of the characters in the game. In addition, you can choose a hairstyle and jewelry. It will be very cool!