101 dalmatines game
Follow us on Facebook and Youtube: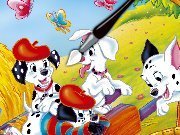 Description: 101 dalmatines
Do you love to paint colorings? Then this fun girl game is for you! Take a brush and start painting a picture.
How to play the game: 
After flash game loading, press "play" and start coloring the picture. Just click to select the color first, and then click on the place where you want to paint.