Your talking cat 5: The kitten game
Follow us on Facebook and Youtube: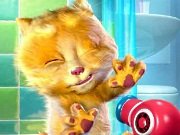 Description: Your talking cat 5: The kitten
Who has not dreamed of having a kitten at home? They are so cute, so amusing and fluffy to touch. You always want to take care of them. Here in this game you can take care of this sweet kitten. You can talk to him, wash him in the shower, dry the hair with dryer and brush his teeth. The kitten will gladly listen to you and will meow to you with the gratitude.
Control of the game: click with the mouse the round buttons at the bottom to perform all these actions with Kitten. Make the kitten to be pleased with you and to be in a great mood!
Played: 44415. Added: 11-11-2014, 20:01.. Categories:
Animal