look after a rabbit game
Follow us on Facebook and Youtube: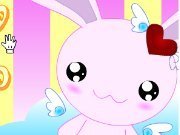 Description: look after a rabbit
Fun game about looking after the rabbit in which you have to take care of a rabbit while it's parents are at work. Feed it, entertain and give gifts to express your love and care about it.
How to looking:
After you download the game, click "Play" and you will see three labels food, fun, love on the screen. That's what you have to worry. Feed a rabbit, entertain and express your love by clicking on the buttons below. Take care of a rabbit to make him happy and give everything it needs, or it can die!
Played: 64395. Added: 24-05-2010, 18:25.. Categories:
Animal