Shaun The Sheep Alien Athletics game
Follow us on Facebook and Youtube: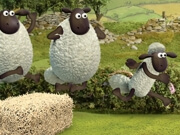 Description: Shaun The Sheep Alien Athletics
Shaun the Sheep lived well on the farm and had fun until the aliens arrived. These green guys on a flying saucer are planning to kidnap Shawn the sheep and his friends. Therefore, Sean and his friends sheep decided to urgently run away from the flying saucer. In this game, Shaun the Sheep will run away from an alien ship. On the way, he will come across barrels, trays, toilets and other obstacles. Help him jump over them and not fall to the ground. Each time Sean falls, the aliens will abduct one sheep.
How to play:
use the space bar or the left mouse button to make the lamb jump up when something gets in its way. Your task is to run the longest distance and earn the maximum number of points.