Lucky Golden Piggies game
Follow us on Facebook and Youtube: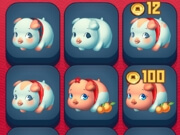 Description: Lucky Golden Piggies
A pig piggy bank is a symbol of good luck that many have at home. In this game you can try to earn as many coins as possible by placing piglets in the cells. Every second the piglets increase their money. The more expensive the pig, the more money it brings. At the beginning of the game, you have very few empty cells to arrange piggy banks. Therefore, it is necessary to put the same piglets on one cell. This way you get more expensive piglets, which will increase your income even more. To do this, you need to use your finger or mouse to drag and drop the same piglets into one cage. The goal of the game is to get the maximum number of coins, as well as to buy a golden piggy bank.
There is a store in the game where you can buy additional piglets with your earned money. In addition, a new piggy bank appears at the bottom of the game, which can be broken and put on a free field with other pigs.