Genetic engineering game
Follow us on Facebook and Youtube: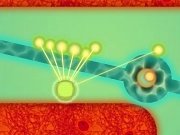 Description: Genetic engineering
Cloning is a notion that has been known for a long time. There are many animals that were created in the laboratory are living in the world. In our wonderful online game for girls you also will become a laboratory worker. Here you will work with genes and cells. It is veryhard work, you will need your savvy.
How to play the "Genetic Engineering" game:
Yellow balls are genes, the blue ball is a cell. Your task is to move genes into the cell with the mouse . If the genes are touched with the red areas, they mutate, and you are not able to go to another level. This genetic engineering game has many levels, carefully think over each your decision.
Played: 176940. Added: 27-07-2011, 13:14.. Categories:
Logical
Genetic engineering game walkthrough:
See walkthrough of this game: