Mahjong Butterfly Kyodai game
Follow us on Facebook and Youtube: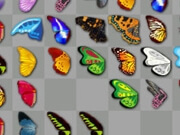 Description: Mahjong Butterfly Kyodai
Mahjong game with lovely butterflies. In this game, you need to connect the paired wings of butterflies so that they can fly away together. This is accompanied by a pleasant sound of butterflies hovering and this effect motivates you to find pairs more so that as many butterflies are in flight at this time. The game trains memory and attention very cool. After a week, you will notice that you can concentrate much better on difficult things at school and at work.
How to play: connect the same wings of butterflies by clicking on them with the mouse and they will fly away from the field. As in any mahjong, cards with wings must be connected by one line with no more than two corners.