Kitty Playground Deco game
Follow us on Facebook and Youtube: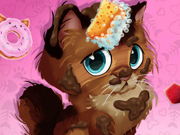 Description: Kitty Playground Deco
One beautiful morning you hear a kitten meowing under the doors. It turns out that someone threw you in a drawer this sweet creature in the hope that you would love his shelter. Let's take him home and play. But it turns out that the cat is very dirty and hungry. I think it's not a problem for you to solve this problem and show how easily and lovingly you can take care of animals! To begin, let's redeem it and get rid of the mass of mud and fleas. Wet it with water, lather the wool, and then dry it. Now it remains to use a brush to comb the kitten and drive away all the fleas from it. After this cat can be decorated by adding a hat on his head and picking up a beautiful bow for him.
After the cat looks quite funny and satisfied, we can begin to create a cozy corner for him in your house. Pick up the toys and arrange them in a specific order. Here the cat will play, sleep and meet you every morning.