My dolphin show 4 game
Follow us on Facebook and Youtube: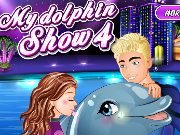 Description: My dolphin show 4
In the game dolphins prepare for a new show in Las Vegas. Now dolphin show moves to a bright and beautiful city. There are many of those who want to watch the dolphins performance.
How to Play:
Help the dolphin to perform for the audience in dolphinarium and get even more points for each day. You can buy new decorations for the dolphin. And the most important thing is that, you can buy a mermaid. But you need to try very hard.