Your fluffy rabbit game
Follow us on Facebook and Youtube: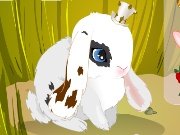 Description: Your fluffy rabbit
Everyone likes beautiful rabbits. They are cute, fluffy and have large, expressive eyes. If you also want to own a pet, you must first try to think what it would be, andthen go to the store and look for the same.
How to decorate rabbit:
you can think of almost any fluffy rabbit. Start to decorate and choose from its color, coat color, shape of head and ears. In addition, choose cool accessories, a bow, a crown or a hat. And of course you need to think about food. Rabbits love carrots andgreens. Although they will not refuse to taste delicious apples or nuts.
Played: 49401. Added: 24-01-2012, 07:37.. Categories:
Animal