Fishdom game
Follow us on Facebook and Youtube: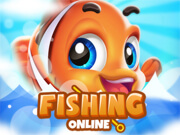 Description: Fishdom
Your task is to save a fish in an empty tank, which is dying from lack of water. To do this, you just need to pull on the pin and water will begin to flow through the pipes. Quite simple, but it's on the first level. Further levels will be more difficult and you need to make the right decisions so that the red-hot lava does not pour out on the fish or it is not attacked by an octopus or a crab. Fishdom even has a bomb that can be used to defeat a crab or octopus. Upon successful completion of the level, you receive three stars.
How to play:
Use your mouse to open or close the hole. Make it so that water pours out on the fish and it begins to swim merrily and rejoice at its salvation.