Clean Up Kitchen game
Follow us on Facebook and Youtube: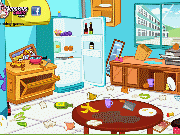 Description: Clean Up Kitchen
All the girls, as future hostesses have to watch the cleanliness of rooms in the house. Mothers taught them from childhood. This time mother cleans another room, and you're instructed to remove debris in the kitchen. Do it as soon as possible and very properly.
How to do the cleaning:
grab objects and drag them into the ballot box, refrigerator, etc with the mouse. You get points for the right decision, and if you do wrong you lose them.
By the way, the spots on the wall, on a table by the window, in the center have to be wiped with a white cloth.
You can see the passing of the game on youtube or under the game.
Played: 42417. Added: 30-12-2012, 23:48.. Categories:
Logical