Spot The Difference game
Follow us on Facebook and Youtube: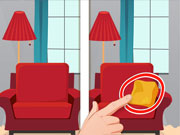 Description: Spot The Difference
An excellent game for finding differences in pictures. I really love these pictures. And you? Let me describe a little what needs to be done here. In the game, you are shown two pictures or photographs and your task is to find the differences between them. Just click with the mouse or point your finger to the place where you think that there is a difference from the picture next to it. There are cases where it is very difficult to find differences. To do this, the game has hints that you can use when you have no options in finding differences between pictures. It happens.
How to play:
look for differences between the pictures and click on them with the mouse. If you do not use the hints, then you collect all possible rewards for each level.