Adventures of Bob the snail 2 game
Follow us on Facebook and Youtube: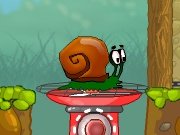 Description: Adventures of Bob the snail 2
The second version of the game about Bob the snail. Bob the snail found a new home. It is there comfortably and quietly there. Now he decided to go to his grandfather's birthday. But a forest full of dangers is waiting for him. Use a different devices to make Bob easily go along the path to his grandfather.
How to play:
help Bob with the mouse when the way is difficult. Click on Bob to make him stopped and continued to move. Click with the mouse on all sorts of buttons and switches to run some mechanism.