Preparing for Christmas game
Follow us on Facebook and Youtube: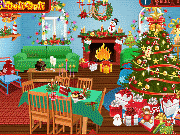 Description: Preparing for Christmas
Wow! How quickly a year has passed and the Christmas Eve is there again! Santa Claus is about to knock on the door, and Dolly's house and four his friends are still not prepared for the holiday!
How to play:
in the game you first need to find decorations for the room, and then arrange the furniture and finally treat guests with holiday delicacies. Find the items using only the mouse. Look at the bar at the bottom and click on the objects on the color image. Try to do it quickly and accurately! At the next level you are going to place your furniture in the room where the Christmas Day will be celebrated, and then you'll treat your best friends with tasty sweets. Drag them from the bottom to the top of the game with the mouse.