Glamorous bodyguard game
Follow us on Facebook and Youtube: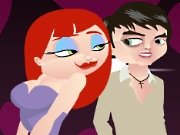 Description: Glamorous bodyguard
There are so many fans of different stars. They stalk their idols, pursue every their step. But all this is not so simple all these stars have a bodyguard, and it's not a huge guy with a gun. In our great online game for girls you will be a bodyguard for the star and the contents of your handbag will be your weapon . Do not let the fans to get to the star.
How to play the game "Glamorous bodyguard:
To control the game, use the mouse. Place the weapon on the playing field where the crowd of fans will be moving. When all the weapons deployed Click on the "Go"button .The fans will start moving, and weapons will stop them.
Played: 39528. Added: 30-05-2011, 18:37.. Categories:
Logical