Valentine 5 Diffs game
Follow us on Facebook and Youtube: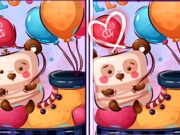 Description: Valentine 5 Diffs
This is a game to find the difference between two pictures that are made in the style of Valentine's Day cards. You will need to find 5 differences for each pair of pictures. Sounds like a very simple question? And you try to go through all 15 levels of the game where the artist very carefully thought over each difference. Sometimes it is the shape of something, other times it is the color of the object, and sometimes there is nothing at all in one of the pictures.
How to play:
In this game you will find the differences in two pictures. Use your mouse or finger to point to your correct version of the difference between the pictures.