Combo mahjong game
Follow us on Facebook and Youtube: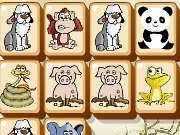 Description: Combo mahjong
This is the Mahjong with images of animals. There is a panda, a monkey, a pig, a frog and boas. At each level, there are more and more cards and animals.
The main task of the game is to select the same cards with the mouse that they could be connected with no more than three lines. The faster you do it, the more points you earn.Come to the shop and buy a hint, the time, a bomb to remove cards and cards mixing (reset) for your earnings.