Bob the snail adventures game
Follow us on Facebook and Youtube: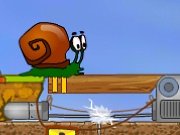 Description: Bob the snail adventures
Bob the snail lived in an old house. He knew that he would soon be demolished, but Bob is so slow! And, once in the morning he heard a terrible noise! The builders have already destroyed his house. Help Bob to escape from the building quickly and get to his new home.
How to play:
help the snail to find an exit from the construction where everything is booming, sparkling and there is an incredible noise. At each level, you need to think about how to get to the exit. Click on Bob to make him stop or start moving. Use the mouse to enable or disable anything.
If you like the game, I suggest a new game to play "
Bob the snail Adventures 2
".
Bob the snail adventures game walkthrough: