Find The Difference Animal game
Follow us on Facebook and Youtube: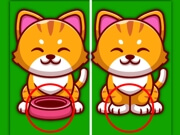 Description: Find The Difference Animal
This is a very simple game of finding one unique animal in the picture. At each level, you will meet a huge number of animals shown in the picture and only one animal is different from the others. Find it before the level is over. Hurry up to find it, otherwise all you have to start the game from the beginning. It seems that these are very simple rules of the game, but in fact, you need to be very careful to find an animal that is very slightly different from the others.
How to play
: you've probably seen a lot of such pictures on social networks where you need to find some object, one of many others, which is different. Use your mouse or finger to indicate which image of the animal is not unique from others.