The imp in the New Year game
Follow us on Facebook and Youtube: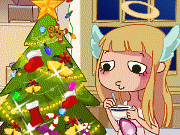 Description: The imp in the New Year
A cute little imp also celebrates the New Year. He goes to visit the little angel. Find all the differences on the pictures and watch the pictured story with these lovely characters.
To find the difference between pictures in the game you need is a mouse. Move the mouse through the left picture and see where is it different from the right one. Click with the mouse there and get points for that. If you can not find another difference, then click the button with the magnifying glass at the bottom left.
Played: 39276. Added: 15-04-2013, 09:03.. Categories:
Logical
The imp in the New Year game walkthrough: