Fireboy and Watergirl 3 Ice Temple game
Follow us on Facebook and Youtube: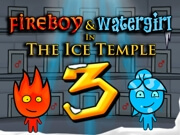 Description: Fireboy and Watergirl 3 Ice Temple
Welcome to the sequel to the Fireboy and Watergirl series. This time, our favorite heroes of the game went to the ice temple. Although this is not their first journey, they still have many obstacles on their way. Therefore, they need to be careful. The Fireboy must avoid ice and water, and the Watergirl must not fall into the lava and stay away from the fire. After all, it is very dangerous and may end with a very unpleasant ending. At each level of the game, you will find many obstacles that you should carefully go through. But everything is needed in order to collect the maximum number of stones from each level. For this, it is necessary that Fire and Water pass each level together and act together. You can play this game for two or one person. Both options are very interesting and I advise you to try each of them.
How to play
: Use the arrow keys and WASD keys to control Fireboy and Watergirl. Go through level after level, solve puzzles and make sure that the Fire boy does not fall into the water, and the Water girl stayed away from the burning lava.