Fireboy and Watergirl 2 Light Temple game
Follow us on Facebook and Youtube: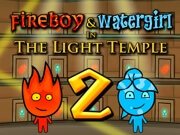 Description: Fireboy and Watergirl 2 Light Temple
The brave duet of the boy Fire and the girl Water, who again go to the Light Temple in search of sparkling diamonds. If you played the first version of the
"Fire and Water" game
, then you are already familiar with the rules of the game. The main principle of the game is that Fire and Water interact together and overcome levels helping each other. Otherwise, all these obstacles alone cannot be overcome.
How to play
: This game can be played by either one or two players. Use the ARROW KEYS and WASD to control Fire and Water respectively. Make each of the heroes of the game survive. Do not let Fireboy fall into the water and Watergirl is affected by the fire. Collect all the jewels and complete all levels successfully.