Fire and Water: The Forest Temple game
Follow us on Facebook and Youtube: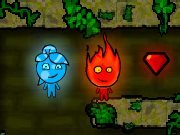 Description: Fire and Water: The Forest Temple
A wonderful girls game for two players about a boy Fire and a girl Water. These two brave friends went to the forest castle. They are trying to go through it and enjoy the old castle. It turns out that in the way they have a lot of traps. They can survive and pass all levels only following the simple rules. And there are so many levels!
Fire and Water are different colored. A girl can walk only into blue puddles, and the boy can walk into the red ones. It is better not to go into the green puddle. In addition, they have to collect diamonds. They can be blue and red. I think you understand why they are of different colors?
Control of the game:
girl Water - WASD keys
boy Fire - the arrow keys.
If you like complicated options, you can play the game not together, but alone. To do this you need to remember how to control fire and water, and place the hands on the corresponding keys. You will have a lot of fun!