Fireboy and Watergirl 6: Fairy Tales game
Follow us on Facebook and Youtube: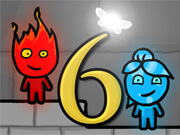 Description: Fireboy and Watergirl 6: Fairy Tales
A new version of the game with our favorite heroes Fire and Water. In this official version of the game, you and them will be able to go through the new 30 levels of the game. This time you will have assistants. They are fairies. Use their help to pass the levels and reach the last one. Collect all diamonds, turn levers, press buttons and dodge obstacles. As usual, this game can be played alone or with a friend.
Game controls: use the AWD keys to control the Water girl, and the arrow keys to control the Fire boy. Use your mouse to control the fairy.