Fireboy and Watergirl 5 Elements game
Follow us on Facebook and Youtube: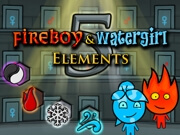 Description: Fireboy and Watergirl 5 Elements
All fans of the game Fire and Water were waiting for the continuation of the famous series of the game. And now she's out! There are many new features, traps and adventures awaiting you in this game. You can play alone or together. The boy fire still easily overcomes fire and is afraid of water, and the girl is afraid of water, on the contrary. Your task is to forgive all the levels and temples, collect all the jewels and reach the exit from the level completely unharmed.
How to play:
Use the ARROW KEYS and WASD KEYS to control both characters in the game. Use the onscreen buttons to move our Fire Boy and Water Girls on your mobile devices.