Bomb it 7 game
Follow us on Facebook and Youtube: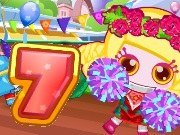 Description: Bomb it 7
New game from the Blow it Up series! Cheerful, bright and always uplifting! In the game you can play either on your own or together. The game has a mode where you have to hit all the enemies. Hit 10 enemies, collect 100 coins, collect all the stars and freeze 10 monsters. There are a lot of modes and you can play this game a lot!Before starting playing the game, click on the "How to play" to learn the buttons to control the game. If you play on your own, then use the arrow keys to move and the spacebar to put a bomb. If you play with a friend, the first player presses the WASD keys and the space bar, and the second player presses the arrow keys to move and press the Enter key to put the bomb.
Played: 58545. Added: 29-11-2014, 23:53.
Play other games from this developer:
a10.com
. Categories:
2 player games