Find the differences: Darcy the pony game
Follow us on Facebook and Youtube: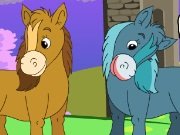 Description: Find the differences: Darcy the pony
Ponies are so cute and funny! They frolic and jump. Recently, young artists came to visit them and to paint them. Compare the pictures and find differences in the images.
How to play:
click the picture on the right with the mouse when you see differences from the picture on the left. You have clues. Use them by clicking on the button below. The game is for searching for differences as quickly as possible, remember the time is limited!
See how to pass the first levels of the game.