Super Mario: find differences game
Follow us on Facebook and Youtube: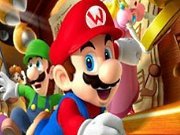 Description: Super Mario: find differences
Funny and brave Super Mario. Maybe everyone knows him. In this game you will look for differences between pictures with Mario. Mark places with differences on the right picture with the magnifying glass.
How to play:
move your mouse through the picture on the right and direct where the difference between right and left picture is. You have 100 seconds. Every wrong click takes 8 seconds. The whole game consists of 16 levels. How many levels you can pass?