The mouse catches the cheese game
Follow us on Facebook and Youtube: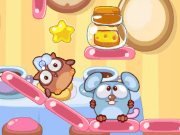 Description: The mouse catches the cheese
This mouse loves cheese. Although there is no. All mice love cheese and this mouse is no exception. Let's see what are the tough decisions we have to take the mouse to reach the cheese and eat them for dinner. The game has 20 levels that you will pass with pleasure.
How to play:
use the mouse and your logic to help the mouse to catch the piece of cheese, which it is rolling, it falls. You will have helpers. Is a cockroach and owls. Owls can fly and roll. Cockroaches only to roll. Use of owls and cockroaches to get the cheese. In addition to cheese you can collect stars and in each of their three levels. Try to complete all levels collecting all three stars.
Played: 45432. Added: 26-09-2015, 18:24.
Play other games from this developer:
girlsgogames.com
. Categories:
Logical
The mouse catches the cheese game walkthrough: