Animal Jigsaw Puzzle game
Follow us on Facebook and Youtube: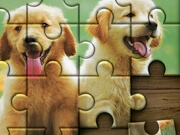 Description: Animal Jigsaw Puzzle
Cool animal puzzle game where you will find 75 levels! On each level, beautiful images of animals are waiting for you. Go to new levels passing the current one. Before starting the game, you can choose the difficulty level. Here you choose whether the animal puzzle is divided into 48 or 108 pieces. If you are an experienced player then you should consider this option. And if you have been playing puzzles for a long time, then choose "puzzle rotation". In this case, the puzzles mimic real ones as much as possible. You will decide for yourself how to unfold the puzzle piece and in which direction.
If you are confused, then use the function of showing the original image. Try all the game modes and functions of the game to enjoy the game and love the world of puzzles.
Game controls:
Use your mouse or finger to move the puzzle pieces to the desired location and assemble the complete picture.