Wahine hula hustle game
Follow us on Facebook and Youtube: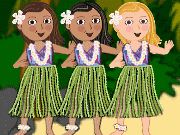 Description: Wahine hula hustle
Help Hula Hula dancers collect supplies for their Hawaiian party. Create safe ways for dancers not letting them fall into the abyss.
Drag and drop support structure that girls did not fall, and fall into the house. Collect more than you need and you get a bonus flowers for your party.
Played: 42408. Added: 11-03-2013, 10:57.. Categories:
Logical