Ball and gates game
Follow us on Facebook and Youtube: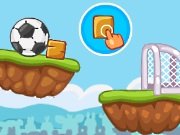 Description: Ball and gates
Do you like playing with the ball? In this online game you will think how to lead the ball into the gates as soon as possible and get the maximum number of points for each level.
To do this, you need a mouse to select the items that you want to remove and make the ball to move.