Feed the rabbit with the radishes game
Follow us on Facebook and Youtube: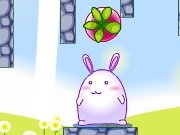 Description: Feed the rabbit with the radishes
Incredible happened! So many radishes has grown that there is nowhere to hide them. But the hero rabbit will save us. He will eat them all! In this logic game you will help the rabbit to eat all the radishes.
How to play:
Pass all 50 levels and eat a radish on every level of this logical game with rabbit and radish. Think about how to draw a line to make the grass being cut, and radishes falling into the rabbit's mouth.
If you made a wrong move, then press the reset button.
Played: 34524. Added: 21-04-2012, 16:06.. Categories:
Logical