Mahjong Link game
Follow us on Facebook and Youtube: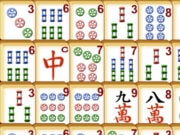 Description: Mahjong Link
A wonderful relaxing mahjong link game. The action in the game is very simple, it perfectly develops memory and reaction speed. In the game, you need to choose paired tiles that are next to each other and can be connected by a line with no more than two corners. The game has 12 levels. In case you don't see a match, there are six tips to help you. Try it and you will easily figure it out.
How to play
: connect identical tiles to remove them from the field of play. For ease of play, the tiles are numbered so it will be easier for you to navigate them.