Dream Pet Link Mahjong game
Follow us on Facebook and Youtube: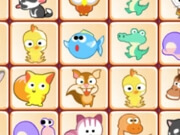 Description: Dream Pet Link Mahjong
The classic Mahjong game where you will find a large number of cute animals, of which there are a lot. The game has a total of 9 levels and 6 tips. Your task is to find paired pictures and click on them with the mouse so that they are removed from the field. The hardest part is getting started and choosing animal pairs. The further the game progresses, the easier it will be to find new ones. If you do not see options for paired cards with animals, then you can use the hint. You have six of them, but do not dismount all of them quickly to be used, as on the next level you will be added only one!
Game Rules: Find all 70 pairs of animal cards. You have 240 seconds. For every pair of animals, you get 10 seconds.