Dino - madness game
Follow us on Facebook and Youtube: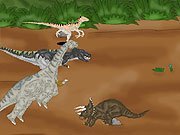 Description: Dino - madness
About game: 70 million years BC. The Earth is populated by dinosaurs of different species and sizes. The Earth is attacked by a huge meteor rain. Dinosaurs as soon as possible have to get to shelter.They are waiting for an incredible race. Help them in their ubelievable race.
How to play online game for girls "Dino-madness": The game is controlled with the keyboard. There are three dinosaur in front of you, you'll controll the moves of every dinosaur at the same time. You should remove all obstacles on their way. To control the dinosaurs, use the keys A, S, D. Two dinosaurs can jump and one of them can bite. Use it for your incredible race.
Played: 42831. Added: 31-01-2011, 23:49.. Categories:
Animal