Rabbit and carrot game
Follow us on Facebook and Youtube: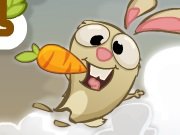 Description: Rabbit and carrot
A great happiness had fallen on this rabbit's head! He found a whole basket of carrots. But it is important not only for him! At night, when our friend slept, the UFO arrived and stole the carrot. Rabbit saw what was happening and went to catch up with UFOs and collect as much delicious and appetizing carrot as possible.
To help the rabbit to jump, you have to draw the way with your mouse, on which he will fall and jump up again. Succeed to draw new platforms in time, or the rabbit will fall down. The meaning of the game is to make rabbit collect as many carrots as possible and jump up as high as possible.