My Dolphin show game
Follow us on Facebook and Youtube: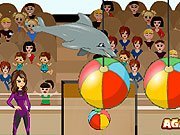 Description: My Dolphin show
Dolphins are wonderful creatures with an incredible intellect and charisma. To communicate with them In natural condions is impossible. And dolphinariums were created specially fo this. There everyone can see the dolphins and get acquainted with them better. This great online game for girls offers you to work in the dolphinarium and take part in an incredible show.
How to play the game "Dolphinarium":
You can choose 2 modes: regular show and a great show. Perform tricks with the dolphin, earn the love of spectators and improve skills. Use the arrow keys to move, to make a dolphin perform tricks, just move to the goal, which is marked by an arrow.
Play next version of this game -
My Dolphin show 2
.