Zootopia Police Investigation game
Follow us on Facebook and Youtube: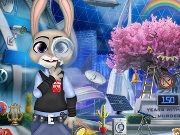 Description: Zootopia Police Investigation
In the country animals big mess. They have lost so many things and all of them need to find. Imagine how much work, who arranged for them to work. Yesterday came a new employee. It's a rabbit. Let's see how easy it will find all items from the list that you need to find.
How to play:
use the mouse and find all the necessary items in this Zootopia game. Do it without mistakes and try to find all the items quickly!