My dolphin show 3 game
Follow us on Facebook and Youtube: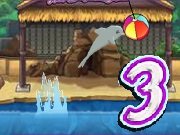 Description: My dolphin show 3
Dolphinarium is with us again! In the game, your playful dolphin performs tricks and delights audiences. Instead, it gets points and you can buy new clothes to look even more stylish.
In the game you can choose a night or day game mode. Clicking on the "dress", you can see what kinds of clothes are there and decide to buy some.
Controls of the dolphin are very easy. Push the arrow buttons to make your dolphin start swimming and then fishing and making jumps. Dolphin gets coins and fish for making tricks.