Flying squirrel game
Follow us on Facebook and Youtube: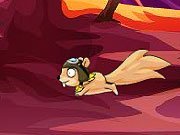 Description: Flying squirrel
Flying squirrels are very interesting creatures, which can accelerate to any speed and fly to any distance. There is a school of flying squirrels, in which they are improving their flying skills. Help them with their learning.
How to play "Flying squirrel" game:
The game is controlled with a mouse and keyboard. To make squirel fly just click on it and hold the mouse, pull it, and then release the mouse. Now you can click anywhere, so that the teacher could help. After each level you can buy different things for the flight, such as the parachute and the rocket. To open the parachute, press A to launch a rocket, press S.
Played: 40014. Added: 31-01-2011, 23:32.. Categories:
Animal