Save the bear game
Follow us on Facebook and Youtube: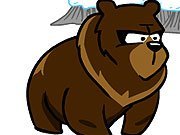 Description: Save the bear
One cute bear just like everyone, was sleeping peacefully in his winter den. But during a terrible storm his shelter was destroyed, and he woke up. Now he has no home, and winter is very cold. Help a bear to find a new shelter and escape from the storm that has plagued him this cold winter.
How to play "bearbound":
The game is controlled with the keyboard. Use the arrow keys to move through the neighborhood. If the bear is overtaken by the storm, he will lose one of three lives. If he loses all the lives, the game ends. Therefore, when storm approaching, take shelter in burrows.
Played: 60714. Added: 31-01-2011, 23:03.. Categories:
Animal