My Dolphin Show 8 game
Follow us on Facebook and Youtube: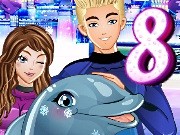 Description: My Dolphin Show 8
Welcome to the new version of the game about a Dolphin who speaks to the audience at the Dolphinarium. Now you will help the Dolphin to perform in the harsh conditions of winter. In the game, new tricks and tasks. You'll even be able to break the ice. And in the store you will see even the penguin or the polar bear! And of course the game has mini-games. To access them you can do a few levels for three stars.
How to play:
use the arrow keys to control the Dolphin to guide it to the ball, catch fish, and perform other tasks of trainer.